November 5, 2017: An evening of performance by Neil Goldberg
6:00 pm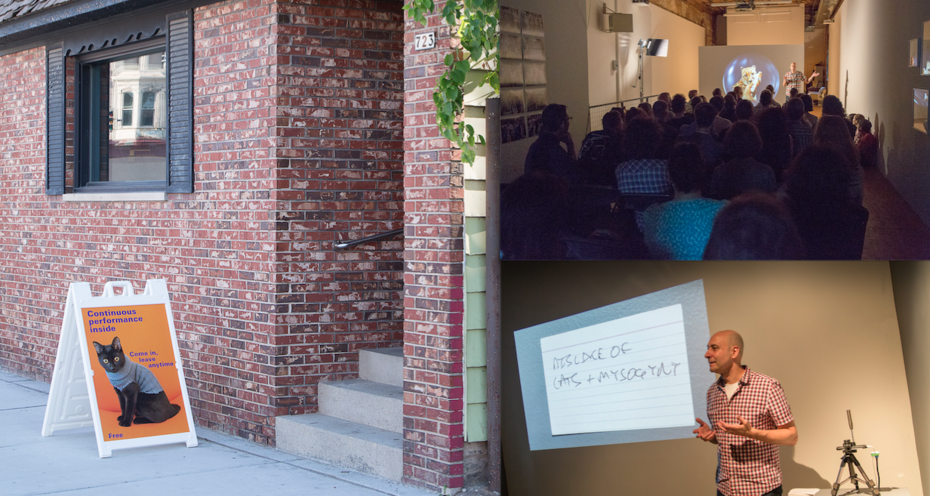 Inhibited Bites is a solo performance about the strangeness of being alive in a body, especially our need to eat. Artist and performer Neil Goldberg uses his visual art — such as the photo series The Gay Couples of Whole Foods or the Audubon-style drawings Wild Animals Eat My Family and Me — as backdrops for personal narratives, cultural reflections, and scientific speculations that examine our complicated relationships to being flesh and blood. Whether discussing the connections between internalized homophobia and aggressive hygiene or our shifting identification with predator and prey animals, Goldberg reveals the absurdity, mystery, sublimity, and horror underlying everyday bodily experience.
All Sundays on Broadway events begin at 6:00 pm. Doors open at 5:45 pm at About Weisacres. Keep in mind, this is a small space. Please arrive on time out of courtesy to the artists.

Sundays on Broadway events are free and open to the public.
Artist's Bio:
Neil Goldberg makes visual art and performance work that focuses on embodiment, sensing, mortality and the everyday. He's shown this work at MoMA, The New Museum, The Museum of the City of New York, The Kitchen, and elsewhere. The NY Times described his work as "tender, moving and sad but also deeply funny," and Time Out New York wrote "Goldberg has produced some of the most quietly intense and affecting art of his generation."