COVID-19 Cancellation Update
September 1, 2020 - December 31, 2020

Due to COVID-19, there are no upcoming events planned at this time. Please be sure to join our mailing list to receive future updates and announcements.
To see more about our past seasons, please visit the Previous Events section of the website.
Join our mailing list!
---
Sundays on Broadway is made possible in part with public funds from Creative Engagement, supported by the New York City Department of Cultural Affairs in partnership with the City Council and the New York State Council on the Arts with the support of Governor Andrew Cuomo and administered by LMCC.
LMCC empowers artists by providing them with networks, resources, and support, to create vibrant, sustainable communities in Manhattan and beyond.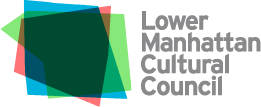 ---