April 15, 2019: Cathy Weis at Movement Research at the Judson Church
8:00 pm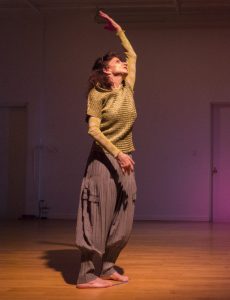 Cathy Weis will perform her latest work Fishsticks, a duet with Tyler Fairbanks, on Monday, April 15th, 2019 at 8pm at Movement Research at the Judson Church.
It all began when Scott Heron made a school of paper mache sparkling fish to float above him on stage in The Sea Around Us. Months passed. Years passed. The school morphed into a single fish reaching for the heavens.
Two dedicated fishermen, Tyler Fairbanks and Cathy Weis, wrangling with this passionate fish, end up in a stalemate in hell.
The event is free, no reservations required. Doors open at 7:45pm.
For more information and for the full evening lineup, please visit the Movement Research website.
Judson Memorial Church
55 Washington Square S
New York, NY 10012